Breaking News: "Your local grocery stores stopped paying front line essential workers Hero Pay"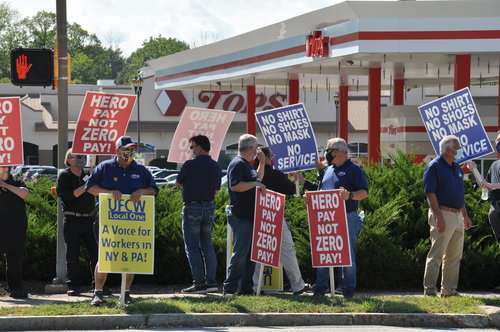 Breaking News: "Your local grocery stores stopped paying front line essential workers Hero Pay"
Upstate New York- Local grocery store chains, including Tops and Wegmans have stopped paying their workers for being essential workers.  At the start of the Covid-19 Pandemic, when the state and the country was shut down, grocery store workers remained working being deemed essential.  With the amount of cases soaring and the death toll from the virus increasing, the grocery workers of Tops and Wegmans were at their stores to ensure that you could have foods and essential needs for your family.  During this time, the grocery industry made high profits and saw record numbers.
At the Tops grocery store chain employees are represented by United Food and Commercial Workers District Union Local One.  The union was able to convince Tops to pay the workers a "Hero Pay" of an extra $2.00 per hour for Full Time workers.  While in June, Tops stopped the hero pay for their employees.  The Union is fighting the company's termination of this essential worker pay and is seeking arbitration to settle the case.
The Covid-19 Pandemic is still ongoing.  The threat and risks are still here.  The Tops employees are still going to work every day to help serve you and your family.  These employees must deal with customers not adhering to social distancing, evading worker's personal space, not wearing masks, and frankly putting these essential workers at risk.  Since, the virus and threat is still here, and these workers at Tops and Wegmans are still essential workers serving you and your family, their Hero Pay should be reinstated.
A recent study found that grocery workers are exposed to Covid-19 at an alarming rate.  ('Alarming rate' of coronavirus infection among grocery store workers, study finds)
Tell Tops and Wegmans to pay their employees hazard pay
We ask you, the customers that were able to get your food and essential needs from the grocery stores during the shut-down because of these essential workers, that you call Tops Customer Service number at 1 (800) 522-2522 and let the company know that you want them to re-instate the hero pay for the workers at Tops and that you do not support their corporate greed!  Call Wegmans Customer Service at 1 (800) 934-6267.
Do you want representation at your place of employment to get benefits such as Hero Pay? Click here.