UFCW International College Scholarship Opens May 3, 2021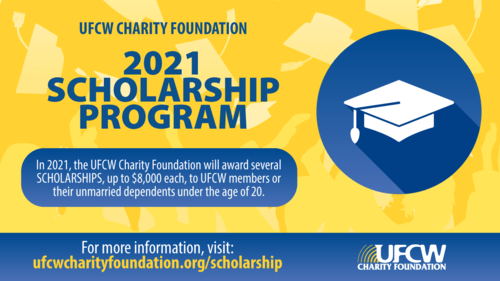 We will start accepting applications on May 3, 2021 for the UFCW INTERNATIONAL Scholarship Program.
A Better Life Through Your Union
Every year the UFCW SCHOLARSHIP PROGRAM offers scholarships to UFCW members or their immediate family members who want to further their education and demonstrate a commitment to their communities and to UFCW values.  Since 1958, the fund has distributed more than $2 million in scholarships.*
Past winners have gone on to make significant contributions to society and to the UFCW – entering a range of fields including public service, medicine, law, business and teaching.  Many have returned to the UFCW as staffers, organizers, and community activists who contribute to our mission.
*UFCW-employed officers and staff, and their immediate families are not eligible for this program.
The UFCW Charity Foundation Scholarship is now receiving applications. Click here. 
Because of the COVID-19 outbreak, the deadline for the 2021 UFCW Charity Foundation Scholarship has been extended to allow applicants more time to complete their applications. The online application or Part A is due by July 24th. To allow more time to gather needed documents, transcripts with the attached Part B of the application must be post-marked by July 31st.